We are delighted to Announce the Winners of Strip Appeal.
JURY WINNER = Free Zoning
JURY RUNNER-UP = Park(ed) Mall
PUBLIC VOTE = Unbox-Embrace-Cohere
JURY WINNER = Free Zoning
by Stephanie Davidson and Georg Rafailidis (Davidson Rafailidis)
Site: Buffalo, NY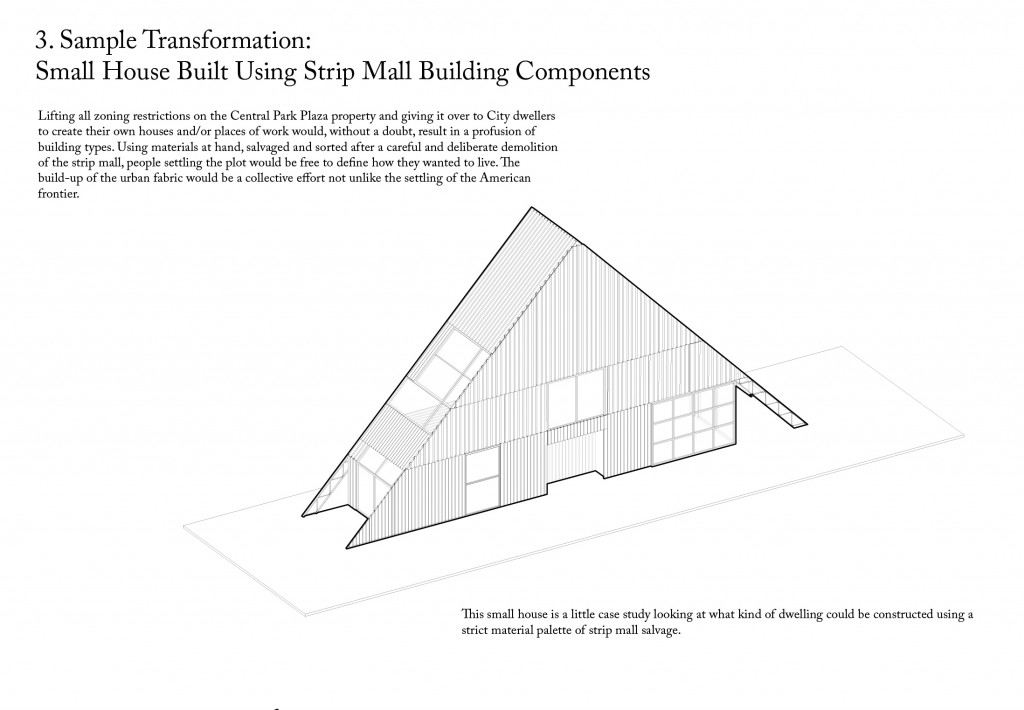 In this submission Davidson and Rafailidis take a derelict strip mall site in Buffalo, NY and show you how you can use the materials of the derelict mall to build a free-zone neighborhood.
Their proposal for the site has 3 main objectives:
all building materials get demounted and sorted. They can be used for free for any new building activity on the site.

The foundation is the most expensive building element to build as well as demolish. They propose to use the existing foundation as a seedbed for new construction.

All uses are allowed. No zoning variances are required.
In their proposal they show you how you could use salvaged materials from the derelict strip mall to build a series of small houses and over a 25 year period how new mixed-use neighbourhood could result through this fee-zoning approach.
Given that 11% of Strip Malls are completely derelict in the U.S. this submission offers innovative and practical solutions for how to reuse the building materials of a such a mall to produce a sustainable neighbourhood.
Weblink: http://strip-appeal.com/?project=free-zoning
JURY RUNNER-UP = Park(ed) Mall
by Carole Levesque, Todd Ashton and Aumer Assaf
Site: Edmonton, AB
Park(ed) Mall takes 4 strip malls located in the north of Edmonton (Baldwin, Glengarry, Rosslyn and Lauderdale), and proposes to replace the static built strip malls in the four sites with a park and trailer dock which houses new mobile service trailers that are on a rotating schedule.
Park(ed) Mall retains the commercial activity that vibrant neighbourhoods need, while removing the dependence on passenger vehicles, encouraging people to walk in their neighbourhoods. How does it do this? By bringing the stores to you! Rather than getting in a car to drive across town to find the store you need, the strip mall nearest you is replaced by a park. A docking station is located in the park to which specially customized trailers, the new homes of the stores in the old strip mall, pull up. The trailers hook up to the infrastructure, water, power, waste and telecom available in the dock and open for business. When not in use by the mobile shops the sites act as neighbourhood parks.
Weblink: http://strip-appeal.com/?project=parked-mall
PUBLIC VOTE = Unbox-Embrace-Cohere
Geraldine Li and Jasper Hilkhuijsen
Site: Enschede, The Netherlands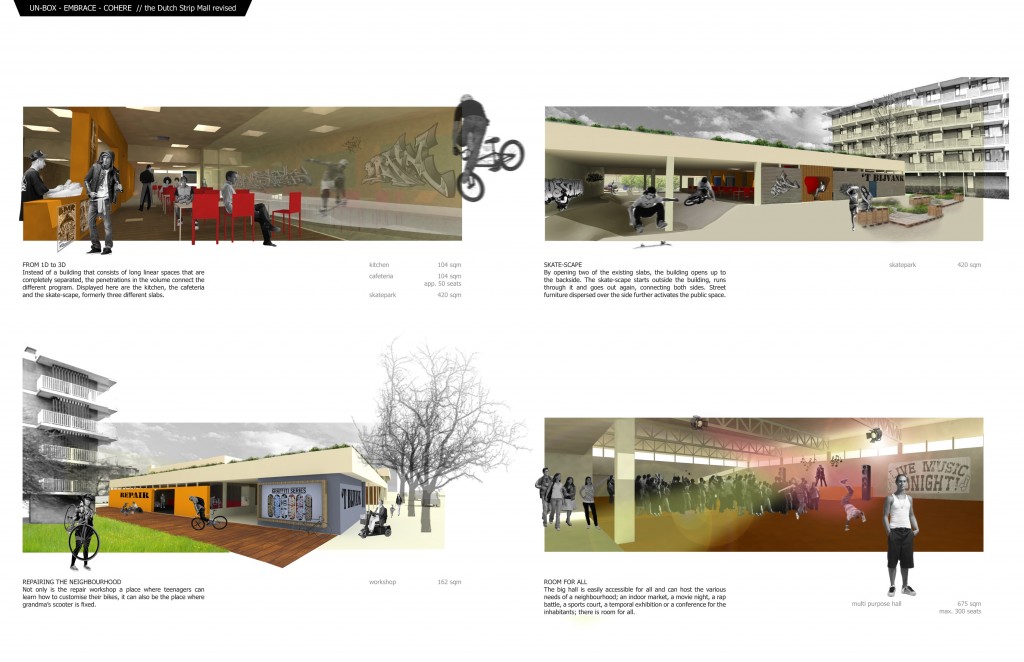 As a remnant from the social '60s, the neighbourhood Wesselerbrink, located in the Dutch city of Enschede, is now dilapidated and became the place of refuge for lower income social groups. The need for social bonding is urgent and facilities for inhabitants are lacking. The now largely abandoned strip mall in the middle of the neighbourhood is perfect as location for a neighbourhood centre. From a monofunctional commercial building with strict opening hours, the building is redeveloped in order to host a wide range of activities; at different times and for different users. The architectural interventions that are made in the proposal are minimalized to those that activate the building in its surroundings and make it suitable for its diverse scope of users. The most crucial spatial intervention that is made is the removal of some non-structural walls to move from an alienating building that consists of a single volume, to an assembly of volumes. Suddenly the backside of the strip becomes another front side. Simple penetrations in every possible direction connect pathways and allow daylight to enter and embed the building in its surroundings.
Weblink: http://strip-appeal.com/?project=unbox-embrace-cohere