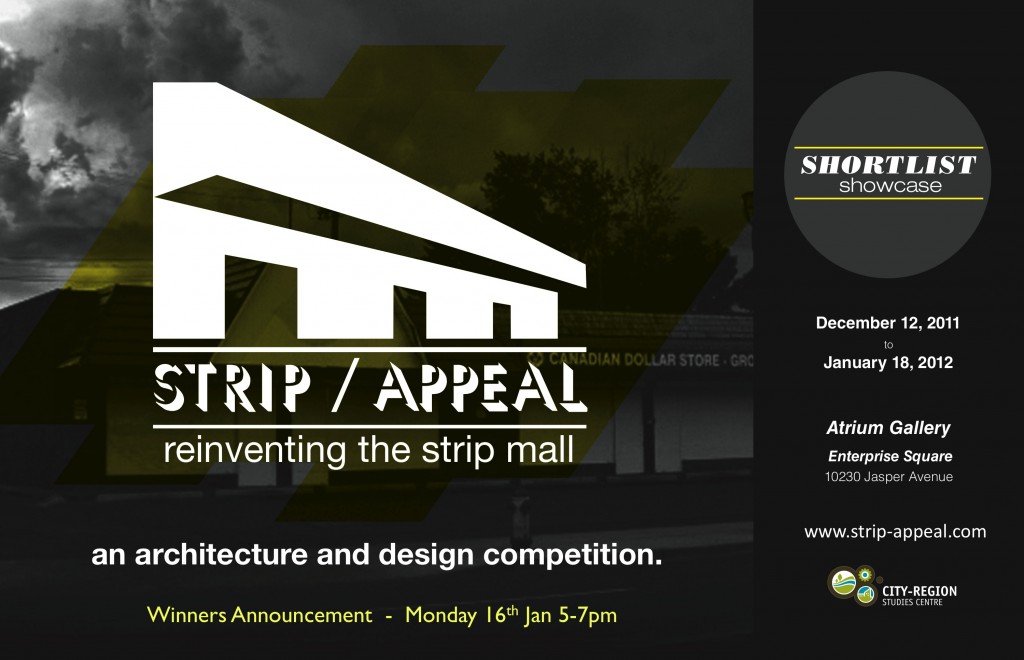 Please join Dr. Rob Shields and Dr. Merle Patchett for the announcement of winners for Strip-Appeal in the Atrium, Enterprise Square, 10230 Jasper Ave, Monday Jan. 16 2012, 5-7pm.
Snacks are being provided from Nomad Food Truck and wine from Devine Wines (cash bar).
As of Monday (9th Jan) you can vote for your favourite from the the Strip Appeal Shortlist and have your say for the Public Vote Prize! The public vote will run till Monday Jan 16th at 12 noon MST.
To inform your choice you may want to read some of the press coverage for Strip Appeal:
Rooftop soccer, outdoor movies: the new strip mall? –   Globe and Mail
Mall Stripped Bare – National Post
Canada's Strip Malls Crumble Towards Extinction  –  National Post
U of A asks designers to rethink '50-era strip malls  –  Edmonton Journal
Strip Malls getting extreme makeover   –  The Chronicle Herald (Halifax)
Redesigning the strip mall – Metro

Strip appeal – UofA Research