The Jury have met and made their decision regarding the Winner and Runner Up.
We are going to keep you in suspense however as we want to make the announcement in tandem with the Public Choice winner at the Strip Appeal Announcement Party on Jan 16th.
The voting for the Public Choice winner will begin in early Jan through the website so stay tuned!
As part of Strip Appeal activities Ellen Dunham Jones will be be giving a lecture and workshop on January 26th. If you live in the Edmonton area please join us: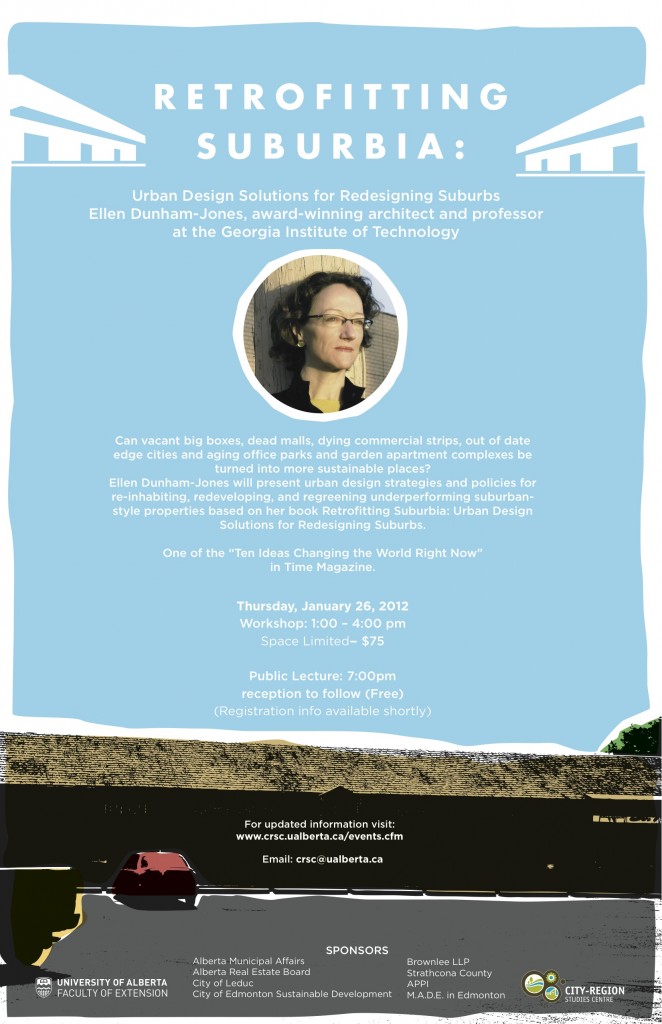 To view the shortlist click here.
We are also deciding on another 20 'notable' submissions that will be featured in an website gallery.
These 40 submissions (the shortlist and the notables) will then be open to the public vote from Jan 10th-17th.
In the future we hope to have all 100+ submissions archived an available to view on the website.
Stay tuned for more ingenious Strip Appeal entries!
The shortlist has been decided and those who made the list have been contacted.
The standard of submissions was extremely high, so much so that the selection committee decided on a shortlist of 20.
The shortlist reflects the range in innovation and approach that was present across all 100+ submissions.
Unfortunately, due to the high level of submissions, we are not able to contact eveyone who entered individually.
We would like to take this opportunity to thank all of you for your submissions and for sharing your great ideas and design work with us.
We are keeping all of your submissions on record as we may ask to use your work at a later date as part of the bookwork or traveling exhibit.
The shortlist will be on display in Enterprise Square Galleries from 12th Dec-18th Jan 2012.
We will also be displaying the shortlist digitally and online using the WAVE technology center.
We hope to be adding more submissions to this format for the public vote after Christmas. You will be contacted if your work is to be included.
Thanks again and best regards,
Merle and the CRSC Team
The deadline has passed and we are delighted to announce we received over 90 submissions from a very international crowd.
We received submissions from China, Egypt, Hong Kong, Australia, Germany, Lebanon, India, Iran, Holland, Canada and the US.
The submissions are also of an extremely high standard both conceptually and in terms of the design renderings!
We shall get in touch with those who have made the shortlist by Dec 7th.
We just wanted to take this opportunity to thank you all for devoting your time to this competition – we are truly overwhelmed by your creativity and inventiveness!